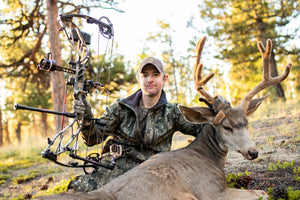 Our Accessories always perform well in the field - Bulletproof YOUR bow with TAP gear today to help ensure your success this HUNTING SEASON!
OUR CUSTOMER REVIEWS SPEAK VOLUMES!
---
WHAT DEFINES TAP?
WHO WE ARE & WHAT WE DO
Titanium Archery Products was founded by Sam Shaffer in the Summer of 2016 in York County, Pennsylvania. 

TAP is a company with a finely tuned vision for pushing the limits of performance and design in archery accessories. We manufacture the BEST bow accessories possible using the MOST ADVANCED materials available. Our products provide TOP OF THE LINE PERFORMANCE at an affordable price while catering to the needs of dedicated bowhunters and target archers.
​OUR PHILOSOPHY
Many archery products on the market today are primarily made to LOOK like they provide high performance but in reality they TRULY DON'T. We design and manufacture ALL of our products with the highest quality materials so that they provide the performance we promise and can endure the wear and tear that serious archers dish out!!
Dedicated archers deserve TRULY ELITE products that provide ALL of the performance attributes that they demand --- and that's EXACTLY what we deliver. 
TAP = HIGH PERFORMANCE