---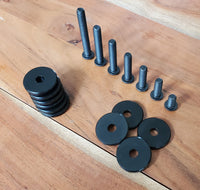 WE FULFILL MOST ORDERS WITHIN 1-2 BUSINESS DAYS!!  
This is the same weight system as used on our

 

TAP-DOA, Hybrid Pro and Element X Stabilizers
High Density STAINLESS STEEL weights 
Black Powder Coating for uniform appearance and wear resistance
Four individually removable NON-THREADED 1 oz weights
Includes 1.75" Black Alloy Steel screw
DOA Stabilizers
The DOA stabilizers are truly the next level in the archery world lightweight durable materials with the weights and button head screws make it easy to remove or add weight I highly recommend them to anyone shooting archery very affordable with great customer service all his products are amazing thanks Sam Shaffer keep up the great work
Stabilizers
Received these two stabilizers from titanium archery !quick shipping , Sam is amazing to deal with and they look fantastic !! now all I need is some good weather to test them out
Quality Product
Great product and excellent customer service. I put a 10/8 set on my new Mathews V3X. I love them.
I like the non-threaded weights!
I like these Non-threaded weights. I have a few bows and I constantly tinker with my setups. The non threaded weights don't seem to get locked on like you get with threaded weights do when removing.
Customer service
I ordered a twin bar setup. It arrived on time and quality was great. The sticker on the rear bar bracket was missing the sticker that informed me of a reverse thread adjustment bolt. It caused me to damage the part trying to remove it. I contacted same and he shipped out a replacement next day. My shot is much steadier with the TAP system! Thank you